Since reintroducing myself earlier this week, I have been looking through some builds. I thought I would post up my build along with my eventual plan.
12 JKU sport
3.6
6 speed manual
Soft top
I purchased this Jeep with the intentions of it being my second vehicle and weekend warrior. I picked up the Jeep completely stock with some aftermarket rims with street tires.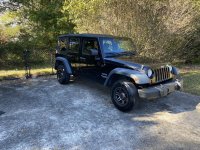 That evening I started ordering parts
Tactik front stubby bumper
Quadratec 9000lb winch
EVO rear D ring mounts
Smitybilt sliders(the one purchase I already regret, I should have ordered EVO weld on ones)
Stubby antenna
Lights and light brackets for the windshield
Hood latches
315/75/16 Mickey Thompson Deegan 38 mud terrains
HID headlights
Cowl covers for the door dimples
Next on the list is a lift kit, going to go 2.5 - 3, still looking on what lift to go with. I will be going with adj track bars, brakelines, quick discos, control arms. Hoping to have it narrowed down towards Christmas when I have a week off work.
I started working on it today.
EVO d rings installed, front bumper and winch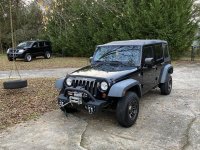 If you see in the background, my fake Jeep is lurking and getting jealous of the real Jeep.
Sent from my iPhone using WAYALIFE