Administrator
Staff member
So, if you haven't heard, Jeep just announced the plan for the future and... you guessed it, it involves their entire line up being electrified by 2025. And, I won't lie, I kinda like the Wagoneer S as it's been designed from the ground up to be something a Tesla owner might want. It's sleek, sexy and is supposed to clear 0-60 in 3.5 seconds. But, for the purposes of this post, I'd like to focus on the all new Recon. Clearly, this new model is designed with enough similarities of a Wrangler that it just might be a replacement for it or at the very least, something that will become the new flagship for Jeep. And, that's what I was hoping to get your 2¢ on. I would love to hear what you think about what you're seeing and hearing.
The All-new Jeep Recon: 100% Jeep; 100% Zero Emission
One of the first all-new electric SUVs that will launch in North America is the Jeep Recon.

This all-new vehicle is aimed at those who love to explore extreme adventures in near silence with a rugged, fully electric vehicle package.

The Jeep Recon is designed from the ground up to be 100% Jeep 4x4 and 100% zero emission. This SUV will be offered exclusively as a BEV, and it will enhance off-roading adventures with:
True trail-rated capability with Jeep Selec-Terrain traction management system, e-locker axle technology, under-body protection, tow hooks and aggressive off-road tires
Authentic Jeep open-air freedom with a one-touch powertop, removable doors and glass 
The latest generation Uconnect system, including detailed travel guides of the most notable off-road trails
"The all-new, all-electric Jeep Recon has the capability to cross the mighty Rubicon Trail, one of the most challenging off-road trails in the U.S., and reach the end of the trail with enough range to drive back to town and recharge," said Meunier.

This global SUV will be displayed to the public next year and production will start in 2024 in North America. Customers in the U.S. will be able to make a reservation for the new Jeep Recon BEV SUV in early 2023. The Jeep Recon will be sold in major markets around the world, including Europe.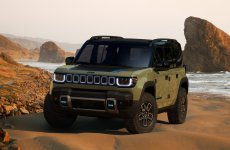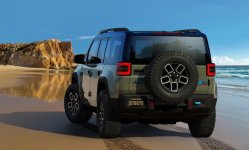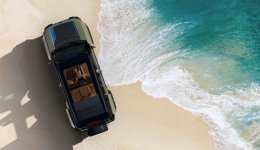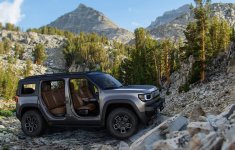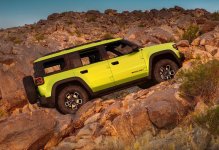 Obviously, there were other models like the Wagoneer S that Jeep highlighted but the Avenger will be a European only model and really, I think the Recon is what most of us would be interested in. So again, I'd love to know what you think about it