Administrator
Staff member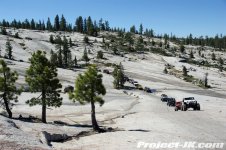 As most of you know, the Rubicon is a trail that we run at least once a year and for 2012, we will be running it on the last week of June. If you would like to join us, we'd love to have you but please note, aside from the normal crew, we will only be allowing 5 additional Jeeps to come along and it will be on a first come first serve basis. This run is open to all Jeeps, not just JK's, but we will have minimum requirements that you'll need to meet.
The Plan:
As always, this will be a weekday run with 2 nighs of camping starting on Monday, June 25th and ending on Wednesday, June 27th. Unless you're meeting us at the Loon Lake trailhead, we will be requiring that you be in South Lake Tahoe no later than 6:00 PM on Sunday the 24th. This will get you enough time to do some last minute shopping, get stripped down and still have enough time left over to join us for our pre-run dinner. We leave promptly at 6:00 AM on Monday morning so you need to be gassed up and ready to roll. While not required, I would recommend that you stay one extra day if you can as we typically use it check our rigs and make necessary repairs before heading home.
We will be staying at the
Super 8 Motel
in South Lake Tahoe and highly recommend that you do the same. Unlike other motels in the area, this one has ground units with back doors that make stripping down very easy to do. Also, while not required, I would advise that you book a room for the duration of the trip as it will act as cheap secure storage for your doors and top.
Minimum Vehicle Requirements:
While I have seen bone stock JK's with street tires run the Rubicon successfully, we will be requiring you to be setup with the following if you wish to join us:
• Recoery Points Front & Back
• Rocker Guards
• 35" M/T or AT Tires
• 2.5" of Lift or Higher
• Lockers are Highly Recommended
• Recovery Straps & Gear
• CB Radio
Things You Need to Know:
This is an overnight camping trip and you will need to provide all of your own meals - Pack extra food just in case and be sure to bring plenty of water for you and your passengers. The Rubicon often sees high temps in the 90's by day but can also be bone chilling cold with temps below freezing in the morning and at night. Also, this is the Sierra's and the weather up there can change in an instant - sunny skies one minute and a downpour the next is not uncommon. Needless to say, please pack accordingly and for all conditions. While there are porta-potties at Rubicon Springs, there are NO facilities anywhere along the length of this trail and it is NOT okay to crap in the woods and leave toilet paper behind. If you don't think you can hold it till camp, be sure to pack WAG bags or the like and use them. Last but not least, the mosquitos are ravenous this time of year and they will eat you alive. I have personally found that DEET with 30% is the only thing that seems to help. Please pack plenty of it.
What to Pack:
• Recovery Gear
• Tools
• Food
• Water
• Cloths for both hot and cold weather
• WAG bags
• Spill Kit
• Mosquito Repelant
• Firewood
• $15 Cash for a Camp Permit at Rubicon Springs
Pre-Rubicon Run Checklist:
A lot of the breaks that you see on the Rubicon are ones that can be prevented simply by making sure your Jeep is in tip-top condition prior to you showing up at the trailhead. The following checklist has been created to help you go through your Jeep and ensure it's ready to be put to the test. These checks should be done after your last wheeling trip and PRIOR to doing the rubicon.
1. Make sure your Jeep is current on all it's routine maintenance and fluids are at capacity (i.e. oil changed, differentials serviced with visual check done, transmission/transfer case serviced, air filter clean, radiator full, brake fluid level full, etc.)
2. Check all your U-joints for any signs of cracks, rusting around the yokes/bearing caps and missing c-clips if you have them. If you haven't replaced your U-joints in over 2 years, you should pull your shafts and check them by hand or just replace them as a part of normal maintenance.
3. Check the splines on your axle shafts to see if there's any twisting in them. Replace as needed.
4. Check your ball joints and tie-rod ends.
5. Torque all your suspension and steering component bolts.
6. Torque your lug nuts.
7. Grease all suspension, steering and driveline components that have provisions for greasing.
8. Check your suspension and steering mounts on the frame and axles and make sure there are no signs of cracking, tearing or fatigue. Repair as needed.
9. Check your aftermarket wiring for any signs of chaffing, crumbling, melting or wear. Replace as needed.
10. Check your battery to make sure it's in good condition and is holding a strong charge. Replace as needed.
11. Check your tires for any abnormal bulges, cuts, tears, leaks or damage. Repair or replace as needed.
12. Check your winch if you have one and verify that it works and that the rope is in good condition. Replace as needed.
NOTE:
After going over this checklist, DO NOT plan any wheeling trips until you get to the Rubicon. We want your rig to be as fresh and ready as possible.
Come at Your Own Risk:
Before you sign-up for this trip, you need to know that the Rubicon Trail is a very long and challenging trail both mentally and physically, even for seasoned driver. Being that we are running this trail so early in the season, it can be substantially more challenging. So that there's no misunderstanding, breakdowns and body damage ARE NOT uncommon and can be very expensive to fix. If you haven't already seen our videos, we've had one Jeep flop, an axle housing snap in half, u-joints fail, ring & pinions blow and that's to say nothing about all the miscellaneous dinks, dents and breaks that you're sure to have happen as well. You are responsible for your own rig and any damage it may suffer. I would advise that you DO NOT join us if you are not able to afford or deal with whatever may come your way.
Who's Coming List:
1. Cindy & Eddie
2. Trail Bud
3. Moochie
4. Honey Badger
5. JeepFan & Stephanie
6. ramin & Kevin
7. mcpuck & Lori
8. mmccurdy
9. ChrisB
10. mackey
Please let me know if you would like to join us by posting up on this thread or by sending me a PM. I really do hope that some new faces sign-up to come and look forward to seeing you soon. Please let me know if you have any questions.
BTW - I would like this to be a NO GAG trip - seriously! I know we've had a lot of fun with this over the years but it's started to get out of control and I would be grateful if you could please respect my request.