This is going to be a very slow build of Morgan's Jeep Ruthless so will do my best to update this thread the best I can.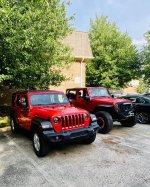 Ruth is a 2020 sport s. She has the technology group with CarPlay and the 7" screen, cold weather group, convince group, the LED lighting group, Soft top and auto trans. Ruth will be Morgan's daily and we will build it slowly.
As for the long term plan for the build I'm debating going 3.5" rancho w/ 9000 shocks and 37's (tires TBD), evo hinge carrier, rancho front diff glide plate, truss the front axle?, front steering upgrades from synergy (drag link, trackbar, and brace), side steps/sliders (open to options), and WAYALIFE CB bar and hitch stinger. I'm open to suggestions and thoughts on the build path.
Last edited: