Well, being that it will be a year on July 31st since Fiona entered our lives, I figured it would be a good time to finally start and build/journal thread. First, a bit of a background... The car I was using as a weekend get-around-town vehicle was showing it's age. I had put a lot of money into it over the last couple of years and was looking at putting another big chunk into it. I hated that car. It was originally purchased for my wife as a quick solution to a problem (her car took a shit and it had been a money pit for a couple of years) so when she got her Grand Caravan, it was used by me on the weekends and, for a short time, by my son to get to school. Anyhoo, I was standing in the driveway one night looking at that POS thinking about the cash I was gonna have to dump into it and something struck me... Both our kids are up and gone now, I have some disposable income that I hadn't had in about 22 years, and I hate this fucking car. I hadn't purchased a car that I actually wanted since I was 16... Fuck it, I'm gonna buy me a Jeep! :big_boss: I went in the house and told my wife my great idea and, shockingly, she agreed!
For about 6 months we looked around for the right Jeep. I found this forum and began lurking. Soaking up all the info I could. Mostly about the pros and cons of different models in the beginning. I decided that I definitely wanted the Rubicon for the extra features but we were going back and forth on the 2-door vs 4-door decision. I felt that a 4-door Jeep wasn't truly a Jeep (sorry!) but the extra space afforded by the 4-door was tempting. My wife was leaning more towards the 4-door mainly out of habit. We needed to keep the initial purchase under $20K, so that limited our years to the earlier JK models (pre-2012).
So, on the last weekend of July 2016 we headed up to Sacramento to help our daughter settle in to the new apartment she moved in to and I decided to look at every dealer and lot from SoCal to Sac figuring I had to hit on something. We did go and take a look at a couple Jeeps while we were up there and the one I probably would've pulled the trigger on (even though it was a few grand over budget) was sold about 10 minutes before we arrived at the lot. The last night we were in NorCal, I decided to look on the net one more time for our trip home. I happened upon a Rubi in Bakersfield that sounded like it might fit the bill so we planned on stopping by to take a look. The dealership closed at 6pm (it was a Sunday) and we got a late start so it appeared that the lot would be closed by the time we got down to Bakersfield. Sure enough, we didn't roll into town until 7pm. My wife told me to stop anyway... we could look at it and if it was worth it, we could go back later. When we rolled up to the lot, the gates were closed but we saw the Jeep so we got out to take a look. Surprisingly, a sales rep came out and said that another deal was being completed by another guy and he had to wait around so he'd be happy to let us go on a drive... So, to keep a long story from getting even longer, here's Fiona the day after we brought her home!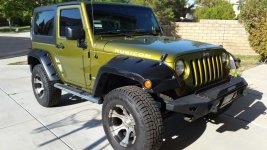 My wife dubbed her Fiona because the Jeep reminded her of Shrek's wife... Green and beautifully ugly! :cheesy:
So that's Fiona's back-story. I'm bad at taking photos, but I'll try to post up some progress pics to fill in the gaps over the last year to today. Here is a list of mods that have been done and mods that are planned to get her where I think I want her. Of course, that list changes every time I go wheeling or when I look at other build threads, so the list will be a living document. :crazyeyes:
The Current State of Fiona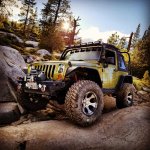 Wheels/Tires
:
Dick Cepek DC-1 17" w/4.5" BS - chrome/black wheels, SpiderTrax 1.5" spacers, Nitto Trail Grapplers - 37x12.5x17
Suspension
:
Mix of EVO and Currie Adjustable Control Arms, 2" EVO Plush Ride Coils with 3/4" spacers - Front, 2" OME Heavy Duty Coils with 3" spacers - Rear, Rancho 9000XL shocks - All Around, EVO C-Gussets
Steering
:
Rare Parts Ball Joints, Currie CurrectLync Tie Rod and Drag Link, Currie Rock Jock Adjustable Track Bar - Front, WTO Redneck Ram Hydro Assist
Driveline
:
Adams 1350 Driveshafts front and rear, 5.13 gears, Carbon Offroad Axle shafts - Front and Rear
Performance (
:cheesy:
)
:
Dynomax Rock Crawler exhaust, Screamin' Demon coil pack with LiveWire plug wires, SuperChips FlashPaq Programmer
Armor
:
Poison Spyder Side Armor, Frame-Mounted Sliders, and Diff Covers. EVO Protek Oil pan and Evap Canister Skids, EVO Rock Star Skids
Bumpers
:
Warn Winch Bumper - Front, Smittybilt Atlas with Tire Carrier - Rear
Recovery
:
Badlands 12,000lb winch, ARB Single Compressor (mounted under the hood w/EVO bracket), fire extinguishers
Misc
:
KMS CongoPro Rack System, Custom light bar setup mounted to the front cage hoop, Rancho Trail Doors, Smittybilt frameless soft-top, tonneau cover, and wind-jammer ...a lot of misc little shit that I can't remember right now.
Planned Upgrades
Exterior:
Sport Cage - Rock Hard because I prefer round bars or EVO because of the extra visibility?
Factory Half Doors with Soft Uppers
Metal Fender Flares - Poison Spyder or EVO?
Install Front Inner Fender Liners - EVO... Already painted and ready to go
Modify rear lighting - New upper "Fuck You" lights wired to activate with reverse lights, rig cubes on tire carrier to strobe for chase lights
Interior:
Seats - Recover or replace?
Floor Mats
Android-based Head Unit and speaker upgrade
Trail table - already have EVO but thinking about getting one with an extension
Suspension
:
6-8" stretch - EVO, Synergy, or Genright?
Coilovers?
Driveline
:
Fusion 4x4, Dynatrac, or Currie 44 - Only if/when stock D44 shits the bed
- OR -
Fusion 4x4, Dynatrac or Currie 60/60 - Not until Fiona's paid off
RubiCrawler Auxiliary Gear Box
Wheels/Tires
:
Undecided on the wheels. I like the DC-1s I've got, but I would like to run beadlocks one day...
40s? Maybe with the stretch and axle swap. :big_boss:
Engine
:
I'm not unhappy with the 3.8L like others are. If and when it craps out, I'll strongly consider a Motec LS swap, but I'd really like a Hemi since I'm kind of a MOPAR freak. Hopefully all the bugs will be worked out by the time I get to that point, but Motec and a lot of members here make a strong case for the LS.
Misc:
Finish four-Corner air up and down system
Better onboard air system - ARB twin or VIAIR system with holding tank
Modify tire carrier gate with a strap or something to prevent it from opening too far
Rewire CB to go direct to battery
Organize and better stock tool kit and spare parts
Decide on better CB antenna and finish tying it in to also be the radio antenna
Last edited: