Administrator
Staff member
For a few years now, we've been running a custom made switch panel on both Moby and Rubicat made by a Southern California and, while it was a great solution for our needs, it was still a custom product and not something that everyone could get with ease. Well, in 2014, this company became Switch Pros and has developed a retail version of this switch panel system that was so good, they WON this year's SEMA Award for best new accessory!
With a total of 8 programable back-lit switches, this amazing system is compact, waterproof, solid state, extremely easy to install all your electronic needs, has a 100 amp capacity, a 100% duty cycle and will be available for just $479. Without question, this is a WAY BETTER solution than an sPod and made by a stand up guy. From what I'm told, these should be available by the end of the year and even though I already have their old setup, I will be sure to upgrade to this as soon as I can.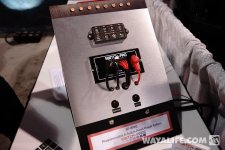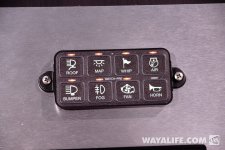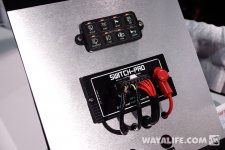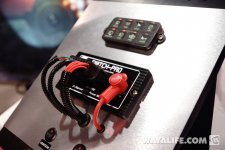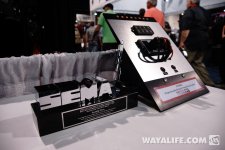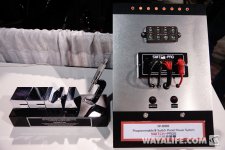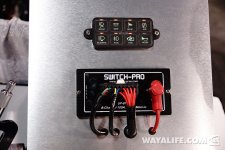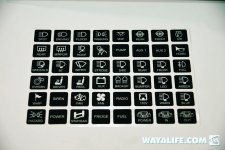 Okay, so I've been getting a lot more people asking about the Switch-Pros switch panel and how it's different than an sPOD and so I did a follow up with them to get specifics. After speaking with the owner at length, this is what I can tell you.
1. The price for a Switch-Pros is only $479 vs. the $520 it'll cost you to get an sPOD with Bluetooth (additional $179) and illuminated switches.
2. Switch-Pro comes with 8 switches vs. the 6 you get with an sPOD.
3. Switch-Pro comes with Bluetooth built into the system standard - to get Bluetooth with an sPOD will cost you an additional $179.
4. The Switch-Pro panel and power module are extremely compact. The switch panel measures only 2" x 4" x .5" (excluding mounting tabs) and can be mounted just about anywhere in your Jeep... ANY Jeep of any model.
5. Switch-Pro is fully programmable. There's no need to physically change switches from on/off to mom or rewire for ignition to battery control.
6. Flash and strobe functions are programmable. Pressing the switch twice within 1 sec activates the flash or strobe function. Pressing the switch normal turns the output on normal. With the sPOD, you can only flash a switch through the Bluetooth app.
7. Switch-Pro current capacity is 100A - the sPOD is only 50A.
8. The Switch-Pro uses automotive grade Mosfets to switch the outputs which are monitored for overcurrent or a short circuit. No relays or fuses are needed. sPOD uses relays and fuses that are not sealed and can cause corrosion over time. This is especially true in cold climates where salt is used on the roads.
9. The Switch-Pro power module is mounted close to the battery and on a JK, it gets mounted on the firewall next to the battery. This is important to note as that reduces the length of the power lead wire and that is critical when it comes to high current applications. Voltage drops on the power wire can be high in a high current application and that will produce heat. The voltage drop on a power wire should be kept under 2% and the location of the Switch-Pro power module helps to make this possible.
10. The power module is fully sealed and rated for use under the hood and at a temperature as low as -40° C and as high as 125° C (257°F).
11. All connections on the Switch-Pro power module are made through a sealed automotive connector - The sPOD uses basic screw on terminals.
I hope that helps you all to see why the Switch-Pro is a superior product.