Administrator
Staff member
It really is nothing short of crazy just how much snow we've been getting this year. Normally, we get just enough to get out and play for a day and then it's all gone by the afternoon. That being said, I can't exactly say that the snow hasn't been a welcome sight to see especially being that it's so much fun to drive our Jeeps in it. And, being that we have so many Jeeps to choose from, we decided it was finally time to lock up Jane's hubs, shift her into 4WD and taker her out for a spin in the white stuff. For sure, it's nothing epic but in this short video, you'll get to see what it's like to wheel some old school cool both doorless and topless and under sky of falling snow. We hope you enjoy.
SPECS:
Jane is a 1974 Jeep CJ-5 Renegade that is painted a factory Jetset Blue Metallic. She is running a factory AMC 304 V8 Engine mated to a T-15 3-Speed Manual Transmission and Dana 20 Transfer Case. Her axles are a Dana 30 up front with WARN locking hubs and a Dana 44 in the rear. Tires are currently 31x10.50R15 Cooper STT Pros and they're mounted on her original factory Mag aluminum wheels. A nice bonus is her WARN 8074 winch which she came with from the factory. Aftermarket products include a Rancho 2" lift, Rancho RS9000 shocks, a Holley Truck Avenger 470 Carburetor, Edelbrock Air Cleaner, MSD Distributor and Dynomax Exhaust System. Last but not least, her tub has been finished with Raptor Bed Liner.
PLEASE SUBSCRIBE
---
If you enjoyed this video, Cindy and I would be grateful if you could please
SUBSCRIBE
to our YouTube channel!
https://www.youtube.com/wayalife?sub_confirmation=1
WIN a Pair of NEW WAYALIFE Shot Glasses!!
---
If you'd like a chance at WINNING a pair of all NEW WAYALIFE Shot Glasses, all you have to do is post up a response on this thread and let us know what you think of the video. Doing this will automatically enter into our new drawing and a WINNER will be selected at random and announced before our next video release.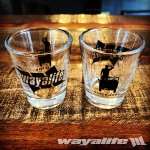 UPDATE: The WINNER is TheGrendel