Hey everyone I figured it was time to start a build thread for my Gadiator that's getting built right now from factory!
Not trying to copy Sharkey on cartoon character names. I actually had this name a while ago with it being in the list I made with my Dad. Sadly last June my Dad passed away due to complications of CHF. It was a complete shock and made 2020 much worse for myself and family. So with that I chose this name for that reason of deciding on it with my dad. Plus my dads nick name for as long as I remember has been Bruce the Moose so I figured this would be a good name to remember my dad by.
I know one thing is that he loved going out on the Jeep trips with everyone here and I wished he got out before he passed but his health and myself going to school said otherwise.
So I'm building this Jeep for him and myself so I can get out there and explore all the places we said we would eventually get to.
Anyways back to the Jeep. I just checked this morning and it's "waiting for parts" but hopefully they will start putting it together soon! The wait so far has been killing me and it's only been two weeks.
[emoji23]
Here's a pic the day I went to the dealer to order. I'm sure it's way better in person lol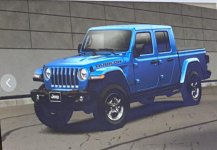 Stay tuned for more updates! [emoji106]