So during the holidays we are driving our diesel Gladiator home from Tennessee and we stopped to fuel up at an Exxon off the interstate. It was the only station at the exit. When I went to put the nozzle in it would not deactivate the door or flap that is installed on the Gladiator. I was pretty tired from driving all day so at first I thought the issue was just 'Operator Headspace and Timing'. My first inclination was to force it in, however I did not want to break the Jeep so I went to another pump thinking there was something wrong with the nozzle- same deal on two different pumps. We ended driving down the road to another station. Luckily I still had over a 1/4 tank so it was no big deal.
It turns out the Jeep has a 'Dummy Door' that prevents a gasoline sized smaller nozzle from being inserted into a diesel fuel neck. This station had the same sized nozzle on all pumps- small.
Many of you probably already know this, however new to me was the fact that there are three different sizes of fuel nozzle. Small- which is for gasoline, medium- which is for passenger car diesel and then large nozzle (that's what she said!) which is for big rig diesels. In addition there are different sizes fuel nozzles for the various fuel cans we all carry.
With all of this in mind I bought a 'Diesel Fueling Adapter' from VW/Audi. It was $16-ish and works very well. It comes in a nice container so you can store inside the vehicle without a mess.
Eventually I'll see if I can remove the 'Dummy Door', but until then this will work for those rare occasions that there is an issue.
If anyone has a better solution to this please post up.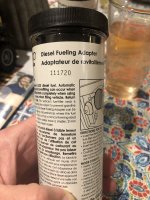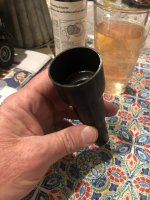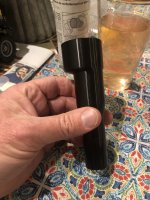 Last edited: