Rich's Commando Green Budget Build
I purchased my 2013 Commando Green JKU (my first Jeep) November of 2012. Being that I am living in the swampy lowlands of Florida, I wanted my build to be practical yet still retain daily driveability. I am starting off very slowly and focusing on cosmetic changes first. Here it was the first day I brought it home..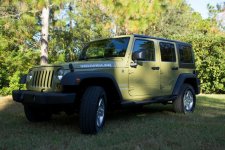 I quickly added a Trektop and a Spiderwebshade to help enjoy the Florida sun without getting fried every time I rolled the top back.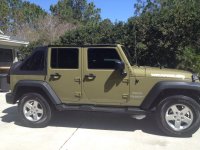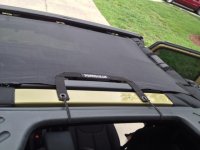 I also stripped off the hood decals and some of the fender decals to make way for a cleaner look...and some Wayalife decals...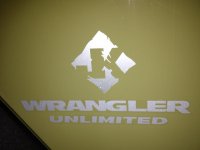 Had to add the Rugged Ridge hood protector to protect my investment...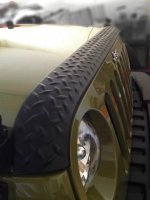 I was in the process of purchasing a house at the time, was divorced and filed bankruptcy a few years back. It's been a rough time, but the Jeep was my first gift to myself for having bounced back after that huge mess. As soon as my credit was rebuilt I ditched my Nissan Frontier and picked up the JKU. Wanted the Rubi, but couldn't swing it. Plenty of time for another Jeep in the future...so this is my way to show everyone that no matter how bleak things may seem, you can always crawl your way back up to the top with a little perserverance and not much money!
Last edited: