Figure I might as well start this to help keep track of where I started and where I want to go. Bought this jeep to use as a daily driver to work and to take the family on adventures over the weekends/vacations. My end game is to have a dd that is comfortable to drive 2 hours up to the family cottage and wheel light to moderate trails and make it back home. I plan on picking away at things as money and time become available so I expect this will be a slow build. I'm always open for suggestions and ideas from others.
Here she sits how I bought her.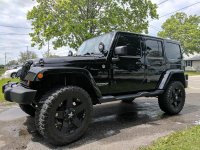 3" Fabtech lift
35 x 12.5 x 20 Mickey Thompson Baja MTZ on Rockstar rims.
Now my long list of items I want to add/modify
upgrade the stock tierod/draglink/trackbar
trim the stock bumbers and fenders
remove carpet and bedline the floor
new rims and tires
front and rear drive shafts
quick disconnects
gears (3.21 sucks, but gear installs cost so much money)
flashcal or procal
soft top
and so much more lol.
Hopefully I can pick away at this list over the summer time and atleast have a couple of the items checked off by winter.
Here is a quick pic I took while hitting some trails.