Checked my bump stops and found this in the rear. Looks like the front was already done. I was lazy and didn't want to disconnect everything and opted to used coil compressors. They were surprising easy after I got the hang of it. Had them compressed and off the jeep in a matter of minutes.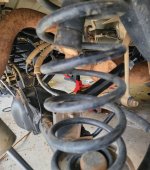 Does the space look adequate? I bought the ones listed for a 4 inch lift but the space looks small to me. The gap is only about 1.5 inches. Anyone know what its supposed to be or how to calculate it?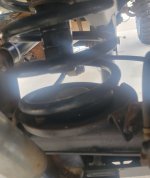 Added the 1 inch body lift, seems it was recommended for a tummy tuck. Also added in some extended brake lines. Stripped the bleed bolts and went ahead and replaced all four.
Adding in a rear cargo basket and bedtred liner for the front will be up next along with the trans skid then I'll be done.
So this is as it sits, a 4 inch suspension lift with 1 inch body lift.