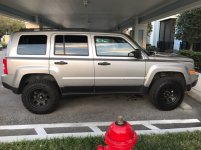 Here is the wife's Jeep. She ended up trading in her used white 2010 JKU Sport after the transmission went out after 50,000 miles. The warranty had just expired three months before so Chrysler wouldn't repair. I will give the dealer credit, they argued with them for at least an hour on the phone before trying to find a used transmission but for $3000 with labor my wife said screw it and started looking. She settled on the 2015 Patriot 4x4 with 2 inch lift. She loves her Jeep as it provides a tad more leg room in the back for the kids and has a plastic back on the front seats so the kids aren't tearing up the fabric with their feet.
We nicknamed it the terrorwagon after she pulled up one day after being out with the kids, and both kids were screaming and fighting in the back and the wife was almost in tears. She had turned up the music some to drown out all the yelling. It was quite comical at the time and I asked her if she needed a break from the terrorists in the back. Hence the terrorwagon name now.
Next up is the wife wants a roof rack for those long car trips and IKEA trips to haul things without being too cramped.
Sent from my iPhone using
WAYALIFE mobile app