New components installed:
SteerSmarts Yeti XD Tie Rod
SteerSmarts Yeti XD Drag Link
SteerSmarts JL Sector Shaft Brace
Mopar Rear Steel Bumper
JKS j-flex adjustable front lower control arms
Some of these were unplanned. My stock plastic bumper had taken a beating in a recent trip, and the left side was constantly rattling. It could have been just some plastic lining losing rivets, or it could be something else.. nevertheless, I wanted to move on to a steel bumper.
The steering components were unplanned, but two factors expedited their installation. My front end slid on hard-packed ice, and the tie rod landed badly on a log. Ever since then, there was this odd clunk sound when in full lock or accelerating under torsion. In another instance, under stress and with a wedged tire at the front end, I was slowly trying to crawl past that situation and put a lot of pressure on the steering, I heard a bunch of sounds that were not inspiring and instinctively felt I was stressing the sector shaft bracket / track bar.
Front adjustable LCAs were in the plan. I had cheaper out with mopar lift kit LCAs and the caster was not something I was happy with. To add to that, I had a slight rub at full lock at the LCA so I wanted something that had a pronounced inward bend to clear the tires.
After install @ Adams Off-road, Langley BC and subsequent alignment. These are my observations
Steering is very tight even at 100+kmph (this has never been the case)
No clunk from the front
Will update the post if I found something to be better or worse next time I hit the trails.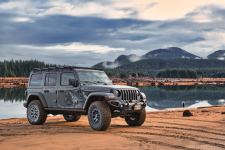 Snow Wheeling