Hey guys, I haven't seen a thread like this here, so I would like to post it up...if the higher powers find it useful enough, I think it should be a sticky, as a very innocent move can cause HAVOC on your entire cooling system/motor.....THIS IS BECOMING A VERY COMMON PROBLEM AND WILL ONLY GET WORSE...DEALERS DON'T KNOW WHAT THEY ARE DOING AND ARE JUST DUMPING IN WHATEVER COOLANT IS ON-HAND.
Ok, first thing is first...there are two types of coolants used on the JK....HOAT (Hybrid Organic Additive Technology,) and OAT (Organic Additive Technology.)
The first thing you need to tattoo in your brain is this.....
THESE TWO COOLANTS DO NOT MIX, AND A CHEMICAL REACTION WILL CAUSE IT TO GEL
(more on this later.)
JK's 2012 and down use HOAT coolant and 2013+ use OAT coolant.
DO NOT COUNT ON THE DEALER KNOWING WHICH COOLANT YOUR RIG TAKES. CHANCES ARE THEY WILL PUT IN THE WRONG ONE, SO IF GETTING SERVICE, MAKE CERTAIN THE CORRECT COOLANT IS USED!
How to tell the difference...For whatever reason, chrysler doesnt label them as HOAT/OAT so you need to know the signs to make sure you are getting the correct one....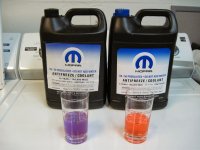 The first thing you are going to notice is the color....OAT (13+) is
purple
and HOAT (12-) is
orange
. The second thing you'll notice is that the HOAT coolant is rated for 5 years and 100K miles while the OAT is rated at 10 years 150K miles. The third thing you need to know is that the cap on the OAT is
black
while the cap on the HOAT is
blue

.
UPDATE

, CURRENTLY, BOTH BOTTLES NOW USE BLACK CAPS, SO DO NOT RELY ON THIS BEING AN INDICATOR. I LEFT THE ABOVE IN IN CASE SOMEONE GETS A LEFTOVER BOTTLE FROM A THIRD PARTY
The fourth thing you will know (not from the pic) is that OAT is priced like gold. It is $50-$60 a gallon (yes you read that right) so unless you have an emergency, buy it online, where it goes from $29 a gallon or so. If you go to the dealer to buy OAT, and the price is too cheap, they gave you the wrong one.
A little background on the color so that the next part makes sense to you guys....As we know, FIAT is with Chrysler now. Fiat has been using orange colored OAT for years. When Chrysler switched to OAT, they didn't want dealers/people getting confused, so to differentiate the new OAT coolant with the chrysler original orange HOAT, they added a purple dye. As a result, due to a weird light refraction, the purple OAT looks weird (even orange) when looked at certain angles. You can even pop open your radiator cap on your 14 and the coolant looks so orange you'd bet me your jeep that it's orange....but it isn't.
You saw the pic above, now compare it to this pic....(same purple OAT)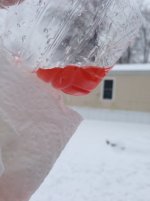 Don't believe me yet? Check this out...open the overflow bottle, and you might see this....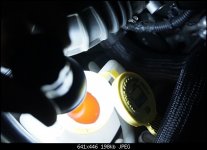 Orange? You would definitely bet me your PR44 that it's orange right?
Now lets take a pic by moving the lightsource and changing the angle....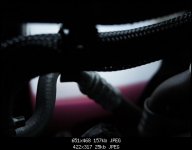 Still think it's orange?
The reason why it looks orange isn't too complicated...the actual coolant is Fiat's orange OAT with chrysler's added purple dye. When it is put into a container that isn't see-through or well lit, the sheen from the original orange coolant comes through which is why it looks orange on the surface. If you
suck a little out using a turkey baster, you will quickly see that it's purple. Think of it as a VERY ANNOYING optical illusion.
Now, why you should care....mixing the two yields to catastrophic results...if you catch it early enough, you may be able to squeak by with a quick and painful flush...however, if you run it for a little while (a month+) you can completely destroy your system by completely clogging it up.
This is what happens when you mix glycol based coolant (HOAT, 99% of coolant in stores, etc) with OAT....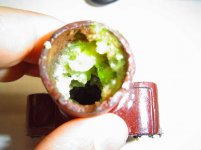 The part number for
OAT
is
68163849AA
Here is a TSB from Chrysler:
TSB - 07-004-12 REV. A
SUBJECT:
Attention! Release Of New Engine Coolant Organic Additive Technology (OAT)
MODELS:
2013 (D2) Ram Truck (3500 Pick Up)
2013 (DD) Ram Truck (3500 Chassis Cab)
2013 (DJ) Ram Truck (2500 Pick Up)
2013 (DP) Ram Truck (4500 / 5500 Chassis Cab)
2013 (DX) Ram Truck (Mexico)
2013 (DS) Ram Truck (1500)
2013 (FF) Fiat 500
2013 (JC) Journey
2013 (JK) Wrangler
2013 (JS) Avenger/200
2013 (LC) Challenger
2013 (LD) Charger
2013 (LX) 300
2013 (MK) Compass/Patriot
2013 (PF) Dart
2013 (RT) Town & Country/Grand Caravan
2013 (WD) Durango
2013 (WK) Grand Cherokee
2013 (ZD) Viper
NOTE: This bulletins applies to all vehicle listed above for every engine application
EXCEPT the 2013 MK equipped with the 2.2L Diesel engine (sales code ENE)
and the JC vehicle equipped with the 2.0L Diesel engine (sales code EBT).
NUMBER:
07-004-12 REV. A

GROUP:
Cooling

DATE:
November 03, 2012

DISCUSSION:
Chrysler Corporation LLC. has released a new engine coolant for the 2013 model year
vehicles and beyond, for all engine applications except the ones listed in the note above.
This new coolant is an Organic Additive Technology (OAT) (
Fig. 1). OAT coolants have a
service interval of 10 years or 150,000 miles. For heavy duty truck and extreme duty cycle
applications refer to the Service Information or Owner's Manual for proper maintenance
schedules.

CAUTION: Vehicle Damage may occur if dissimilar coolants are mixed!
Coolants of different technologies are not compatible nor interchangeable (OAT, HOAT or
IAT).
Mixing these coolants could result in:
• accelerated corrosion within the engine and cooling systems.
• the coolant having an ammonia smell.
• debris (particles) floating in the coolant.
Further inspection by the technician may find corrosion in the system. This could show up
as aluminum pipes turning black in the coolant system, engine overheat, or leaks in the
coolant system.
NOTE: If OAT (MOPAR P/N 68163848AA Purple) has been Mixed with HOAT (MOPAR
P/N 68048953AB Pink Or Factory Fill HOAT Orange (
Fig. 2) or (Fig. 3)) or any
other coolants have been mixed, it will be necessary to flush the cooling

system.
To sum up....
If you own a 2012 and DOWN...you can run Chrysler HOAT coolant or any other Chrysler approved HOAT. There aren't many on the market, and the price is basically the same as chrysler's, so for warranty sake, run the OEM stuff. You need to make sure that if you buy from the dealer, you are getting HOAT coolant (blue cap, 100K mile, orange, $14 pricetag) and if the dealer is refilling yours for free, make SURE you tell them to use HOAT....OAT is your only kryptonite.
If you own a 2013 and up, you MUST USE Chrysler OAT coolant. If you are out on the trail, and need to top off, use distilled water to limp you home, do NOT use coolant from your buddy's truck, etc. If you are the kind of wheeler that carries spare fluids, carry a bottle of OAT with you. If you absolutely MUST use glycol based coolant, flush it out ASAP as soon as you get back home, and refill with the correct coolant. When at the dealer purchasing, make sure you are walking home with the correct bottle (black cap, purple, 10 year 150K label and expensive) and if they are topping off, inform them that you want to make sure they use OAT coolant.
I hope this post helps some members along the way!
Dave
Last edited: