So the pre-cut replacement A-Pillar that I purchased with the Switch Pros setup is very different than the OEM A-Pillar. You can see the comparison in the following pic.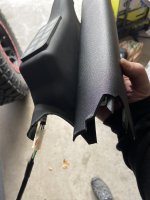 Of course, it's a Sunday so I'm not going to be able to call them on the weekend and I have the Jeep taken apart.
The OEM panel has tabs at the bottom that fit into tabs in the dash as you can see in the next pic.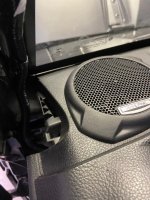 I "might" be able to make it work if I cut the tabs off of the dash.
Anyone have any suggestions or experience with this?
As an aside, the Rugged Ridge A-Pillar that comes with this kit is not a very good match to the OEM texture and color. I can live with it, but I expected a better match.
Sent from my iPhone using WAYALIFE