After years of planning, dreaming and saving the restoration and build of my Scrambler started today. My CJ-8 was the first car I bought when I was 19 and have been lucky enough to hold onto it.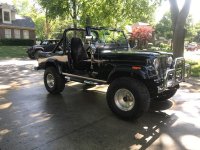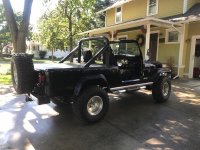 In 1997, I had wanted a Jeep CJ and preferably a scrambler since I was a little kid and finally made that dream happen. Luckily, I found a guy that just moved to Michigan from Arizona and hadn't even had a chance bring his CJ-8 up and I bought it from him, site unseen, and shipped it up here. I drove it as a daily driver for 4 years through Michigan's salty winters before I was able to buy a second vehicle and park the 8 in the winters. But the salt took it's toll. Fast forward 22 years and rust had eaten its way through the floor pan in three locations. That started the planning, dreaming, and unfortunately budgeting.
The goal of the build is to keep it looking exactly as it does today, just built to run. The entire body will be walnut blasted down to bare metal, any rust repaired, and then epoxy primer. Then back to Black. The venerable but leaky 258 that served it faithfully for 166,000 miles will be upgraded to an 1974 AMC 360 fully rebuilt and upgraded with a new cam and Eldenbrock performer intake. Everything from the body down will be built around that engine. New hydraulic clutch, AX15 trans and a re-built Dana 300 t case. By the time we would have stripped the frame, rewelded all new suspension and motor mounts and added reinforcements to the weak areas of the frame, it was easier and not much more to have a custom frame built. TDK built this beautiful frame to spec and the had it galvanized and will be powder coated black. This will also give me the ability to sell a complete, minus the T case, rolling chassis to someone that wants to build a more factory correct restoration.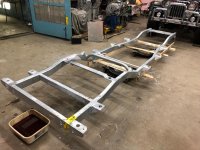 Dana 44s from either fusion 4x4 or ECG will be ordered soon with ARB lockers. Alcan will build the YJ width springs and I'll probably use rancho's shocks. Custom DS and steering linkages and a PSC steering gear will follow.
In the end, she'll be a brand new Scrambler built to last generations and keep up on the trail. Here she is heading off to the shop, Hopefully to be back mid summer. A sad and exiting day all in one!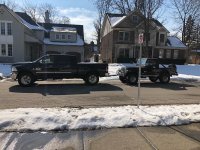 Sent from my iPhone using
WAYALIFE mobile app