Hey all,
I recently came across a really cool company that makes switch panels. some novelty items and real ones.
I bought this one:
Fortunate Son Switch
from Concord Aerospace.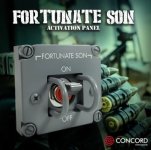 It's got a real, heavy duty switch and I want to wire it to a speaker to play the song (on a loop) till I turn the switch off.
Any electrical guys have an idea how to do this?