Hi All,
I have been lurking for a while and finally got around to giving a wave. Excited to introduce myself here. I am David and I have a 2012 Dozer JKU Sport with the following mods:
37 BFG KO2
Stock Dana 30 and 40 Rear with 4.56 gear
ARB Front and Rear Locker
3.5 Rock Krawler X Factor
I enjoy venturing out into the hills, mostly overlanding. Rarely use my lockers in the front because I am a bit worried about Dana 30 and 37 tire combination. Here is a picture of my JKU. Looking forward to interacting with you all.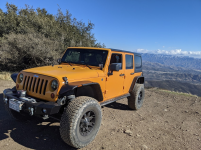 Best,
David