Anna, our 2011 KK (Liberty) has been sick for the last couple of months. CEL is illuminated carrying a P0302, miss-fire cylinder #2. I've been dinking around for awhile and now I'm running out of bullets. I'm hoping to tap into the wealth of forum knowledge here at Wayalife.
A little background on the KK engine; this 3.7L has COP (coil over plug) only on one side of the engine, cylinders 1, 3 & 5. Cylinders 2, 4 & 6 use plug wires that run across the engine. Subsequently the following cylinders share coils 1 & 4, 3 & 6 and 5 & 2. This engine has 115k miles on it and only had one coil replaced in the past - no other work ever done.
What I've done:
1. First time CEL illuminated I got 4 codes, in order:
- P0302, miss-fire cylinder #2
- P0581, Cruise Control Multi-Function Input A Circuit High
- P0579, Cruise Control Multi-Function Input A Circuit Range/Performance
- P0585, Cruise Control Multi-Function Input A/B Correlation
The engine was truly miss-firing! I wasn't really concerned with the cruise control codes since it has worked/not worked for a couple of years, but this was the first time seeing the codes for the cruise [emoji848].
I had a P030X problem years ago and fixed it with a new coil. We were leaving on a cruise in few days so I took a shot and replaced the coil and all six spark plugs. That seemed to fix the problem for about a month.
2. CEL returned - P0302 was the only code. It illuminated shortly after a cold start, but the engine didn't seem to be miss-firing. I swapped the new coil with a different one and reset the PCM.
3. A week later the CEL was back. Again, P0302 and after a cold start, but didn't seem to be miss-firing. This seems to be a recurring theme. Swapped the plug wire and reset.
4. A few days later, CEL is back, same as before plus the P0581 and P0589 came back. Checked compression thinking maybe I have a head gasket issue. Warm compression looked good at 195psi, cold at 175psi. Range should be 175 to 225psi so that seems ok.
I checked the coolant level which was good, smelled the coolant, no fuel and check the oil. I also checked the exhaust at cold start. No excessive smoke or coolant smell. Every looked good so I'm ruling out the head and gasket. For shits and giggles I swapped the third and final coil and reset.
5. Of course the CEL came back, same as before. I took the next step and swapped fuel injectors and reset.
Present day - CEL is back, just P0302 as before. Doesn't seem to be miss-firing and I'm running out of bullets. Thinking that I might have a bad crankshaft position sensor, but I would think that would throw a P0300, multiple miss-fire? Or is it just a failing PCM?
I think I'm going to order a ODB2 scanner adapter for my phone: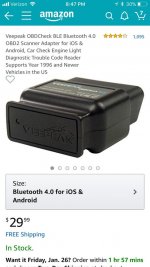 Anybody have any experience with this? I want to see if the engine is really miss-firing using live data in the auto doctor app. Or is there a better app?
Thank you in advance for reading through all this detail! If you have any thoughts, advice or further questions, please drop a line.
Sipafz - Chris
Last edited: